David Jackson
CEO AND DIRECTOR OF SOUTH CAMPUS
David's passion for wildlife and desire to educate and inspire conservation worldwide is what lead him to establish Conservation Ambassadors 25 years ago. His passion started in high school with jobs in animal care and training dogs and parrots. His unique experiences inspired him to pursue a career in the animal care field. David worked in the zoological medicine department at UC Davis Veterinary Teaching Hospital where his dedication and interest in wildlife and wild places lead him to attend Moorepark college an AZA (Association of Zoos and Aquariums)-certified facility in California where he graduated with a degree in exotic animal training and zoological management. David has traveled around the world to assist with wildlife conservation efforts. Over his career, he has received numerous awards for animal welfare, zoo management, education and training but he will say his greatest accomplishment are his two children Samantha and Christopher who have the same love for animals and passion for conservation.
Gabe Kerschner
DIRECTOR OF NORTH CAMPUS
Samantha Jackson
DIRECTOR OF COMMUNITY OUTREACH
It is no surprise that Samantha has a profound connection to animals and a strong passion for conservation. It was her parents, David and Anita, that founded Zoo to You before she was born. Samantha was raised with Jasmine the tiger, Maya the spider monkey, and all of the animals that have found sanctuary at her family's rescue zoo. At age twelve, Samantha traveled to Africa with her parents and life-long mentor Jungle Jack Hanna to assist in the preservation of the mountain gorillas in Rwanda. Having been surrounded by wildlife education and conservation for her entire life, carrying on the family legacy came naturally for her. As the Director of Community Outreach Samantha works hard to connect and inspire everyone she meets to respect and conserve wildlife. She has appeared on Jack Hanna's Into the Wild, David Letterman, and many other national and local programs in a continued effort to spread the message of conservation.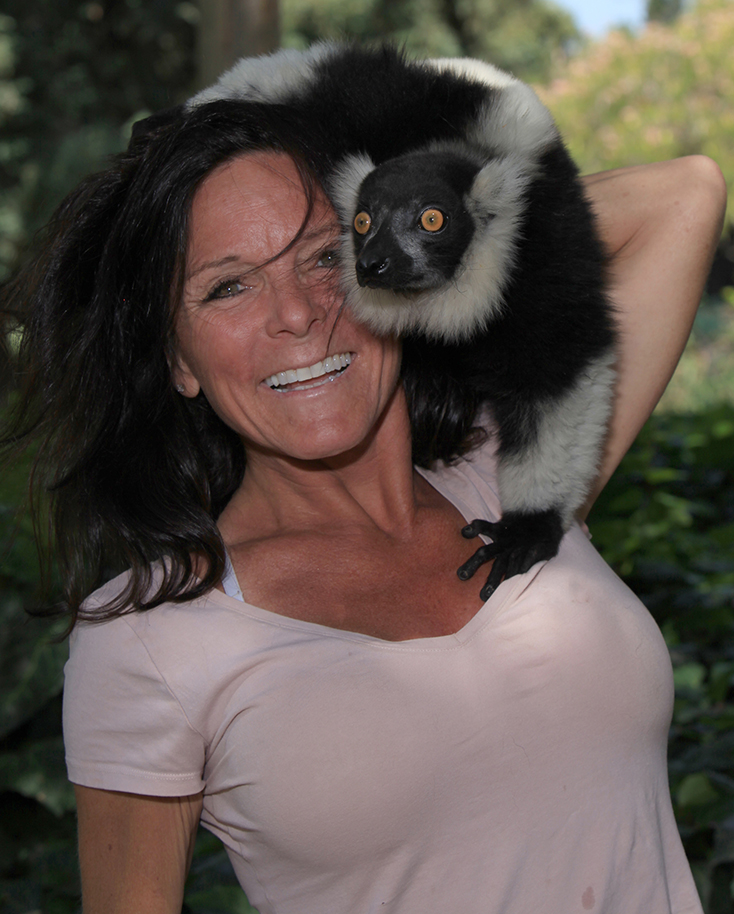 Lisa Jackson
MEDIA RELATIONS
For many, there is a moment that changes the direction of one's life. When Lisa was 15 she found herself in the ocean completely surrounded by a huge school of brightly colored fishes. Captivated by this experience, her future would be working with marine animals.
SeaWorld was a perfect fit for Lisa to start her career. She started in 1979 caring for the penguins, fishes and sharks, and a few years later became a dolphin trainer. She performed in shows for the next several years.
In 1987, she decided to challenge her behavioral skills by working dolphins, sea lions and beluga whales in the open ocean for the Navy Marine Mammal Program. In 1991, she returned to SeaWorld and continue her career with dolphins, sea lions, walrus, river otters, false killer whales, pilot whales and killer whales. Lisa became a supervisor at Shamu Stadium caring, swimming and performing with all 10 killer whales.
Lisa moved from San Diego to start a video production company where she could utilize her animal behavior background coupled with her production and performance experience.
Lisa has traveled around the world filming and producing videos for many conservation organizations, including: The Painted Dog Conservation Project in Zimbabwe, Save the Elephants in Africa, gorilla conservation in Uganda, sea turtle conservation in Nicaragua, wildlife rescue in Cambodia, pangolin rescue and research in Vietnam, Animal Planet and BBC, as well as other conservation projects throughout the United States.
For media relations and press kits, contact Lisa.
Megan Copher
ANIMAL KEEPER
Annie Woods
ANIMAL KEEPER
Joseph Kerschner
ANIMAL KEEPER
Kelsey Weinroth
ANIMAL KEEPER
Garrett Wilson
ANIMAL KEEPER
Deana Escujuri
ANIMAL KEEPER
Brandon Kato
ANIMAL KEEPER
Derrick Silva
ANIMAL KEEPER